Shangyuan Art Museum artist Chen Ping - Works have

[2013-5-25 12:23:31]




上苑2013年澳洲驻馆艺术家陈平入选《2013年威尼斯双年展的主要国际艺术展》

Shangyuan Art Museum artist Chen Ping - Works have been selected by 2013 Venice Biennale

"时间-空间-存在#2"(荷兰世界艺术事务)



彩虹,树林,猛兽,人,2013,油画,180 x 210 cm
南极光,红绿鸟,红鸟,猛兽,人,2013,油画,180 x 210 cm
意大利威尼斯博本宫
Artist Statement: Unseen Forest
Chen Ping
Ancestor Di Jun was a god with the head of a bird, the bodyof a monkey and only one leg. There was a country in which the people all hadone head and three bodies. These were Di Jun's children; He had another tensons who came out one at a time after washing in the south-east sea and thentook turns to work as the sun in the sky; He also had twelve daughters who werethe moons, they always bathed in the remote west and took turns to come out atnight. Occasionally, Di Jun came down to meet the five coloured birds in theeast valley. They danced joyfully. In the ancient Chinese myth, the creator ofthe world, Pan Gu, had the head of a dog and the body of a human. Nu Wa, thegoddess who created humans, had the face of a woman and the body of a snake.The first king, Huang Di, was a bird, with four wings and six legs. There wasalso a god of the ocean and wind, and he was sometimes a fish with a human faceand sometimes a bird.
These great majestic creatures, once the carriers of thehuman spirit, are now nowhere to be seen. Their forests have been lost. Sincethe dream of communism shattered, we have turned ourselves into hungry hunters ofa concrete reality, and our souls have been transmuted.
I traverse among spirit, illusion and reality; mingle manwith landscape and animals. This is where I could once again let my spirit fly.Looking down, I increasingly disengage from politics and society.
"The phoenix has never come in the sky, the picture hasnever appeared from the river, and yet my life is near the end!"(Confucius)
Catalogue Essay: The Artist & the Threshold
JamesArvanitakis
Thecontemporary world is one of contradictions: globalization is accompanied byaggressive nationalism; militant religious movements emerge within secularstates; scientific rationalism makes us desire enchantment and meaning in nature.
Staring at Chen Ping's ethereal paintings such contradictions emerge:while one part of the artwork is busy, congested, verging on exhausting, otherparts are composed, calm, contemplative. Looking at the works, we see astructures being constructed while simultaneously feel a melting away, like agentle wave running over a sand castle.
The works representthe language of paint, not a classification of the abstract/ classical, East/Westor unadulterated human or uncontaminated nature.
The workscapture the simultaneous connection and disconnection between humanity andnature that Ping identifies as his motivation.
Ping highlightsthat nature is not separate from us: it is not 'over there'. Rather, ourrelationship with nature is everywhere, both precarious and robust: from theTasmanian wilderness, to the Himalayas, large urban centres, and even the artgalleries that hang such works.
This is keyto Ping's work: we might think that we can disconnect ourselves from the world,but across space and time, both our quality of life and very existence, dependson this relationship.
The controversialGerman philosopher, Martin Heidegger, described the concept of the 'threshold':the moment we move from a state of ignorance to reflection. Here we look aroundand see the world with fresh eyes and identify what is most important: ourhumanity and the essence of the relationships we build.
Once wecross this threshold, the world is different: more beautiful, intense, full ofincreasing insight and emotions.
Heideggerargued that it is the artist who can guide us through the threshold: poets,musicians, painters.
Chen is aunique artist who defies definition and can guide us through thethreshold: showing the world in a different way.
2013年驻上苑艺术馆创作的作品: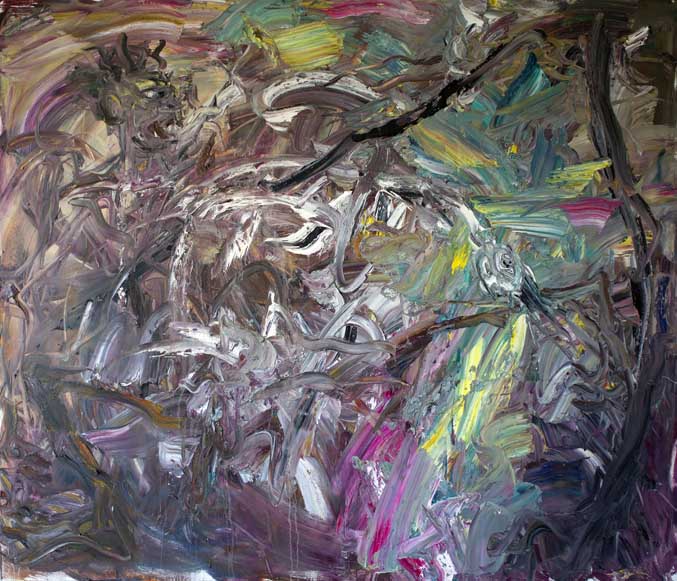 陈平,彩虹,断树,白鸟,人,2013,油画,180 x 210 cm.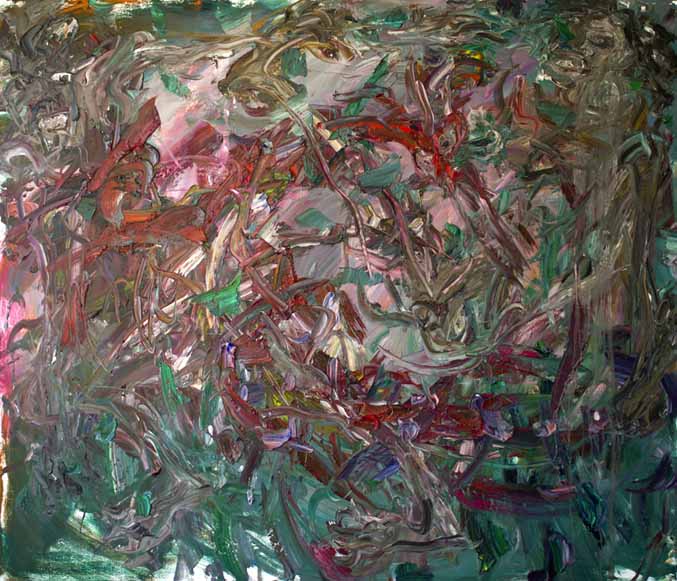 陈平,落叶,红鸟,男人,女人,2013,油画,180 x 210 cm.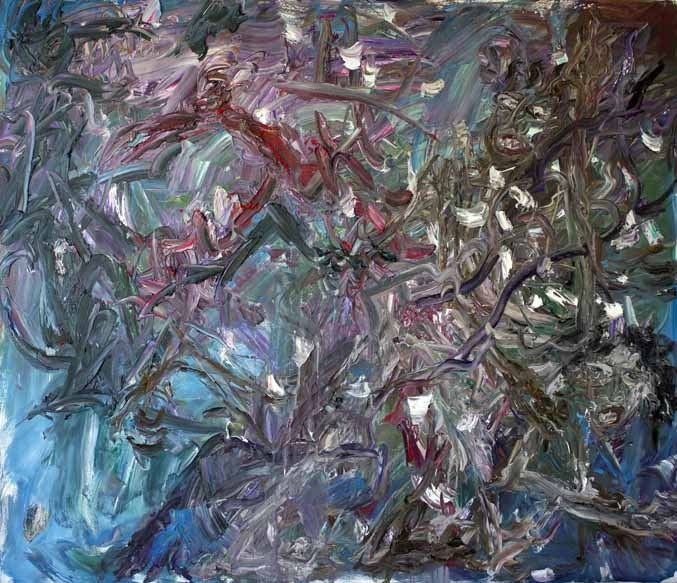 陈平,树,落花,红鸟,2013,油画,180 x 210 cm.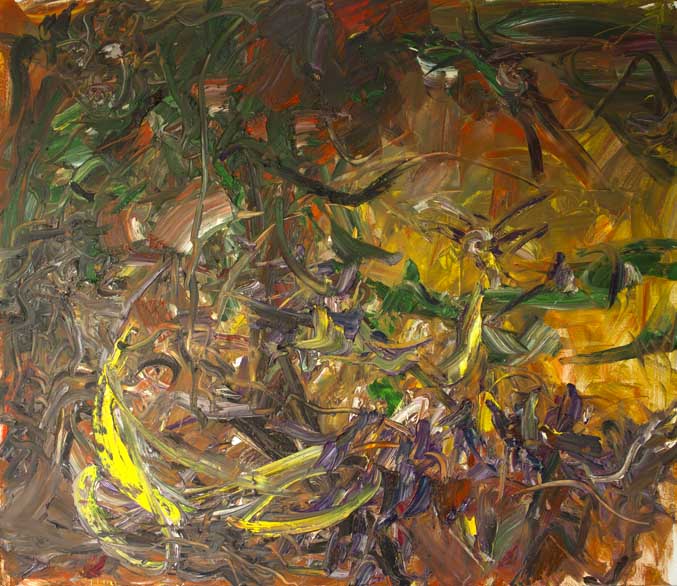 红光,树,黄紫鸟,绿鸟,男人,女人,2013, 油画,180 x 210 cm.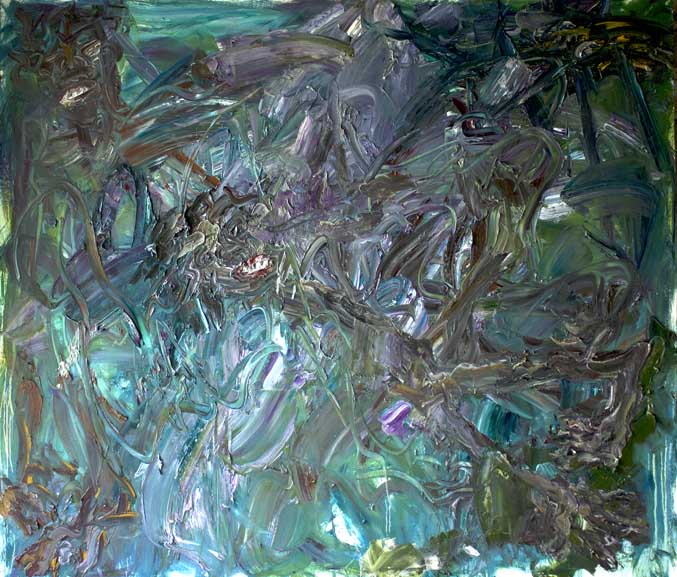 月光,黄鸟,男人,女人,2013,油画,180 x 210 cm.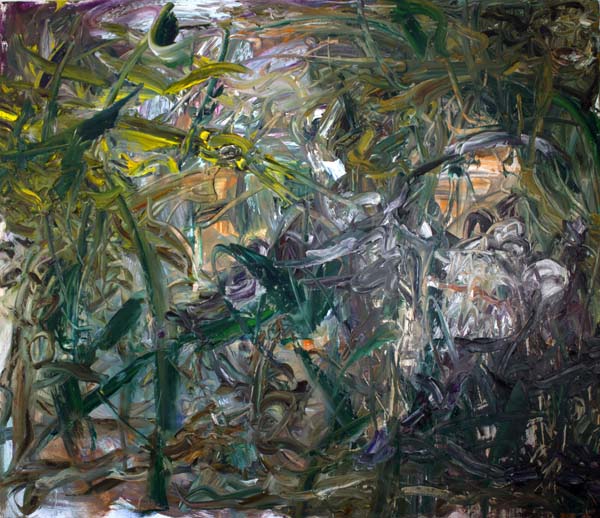 不见森林
陈平
始祖神帝俊是一个单脚鸟头猿身的怪物。生了一个三身国,其国民都是一头三身;他的另外十个儿子是太阳,常在东南海的甘洲洗澡后,轮班白天去工作;还有十二个女儿是月亮,却常在西方荒野洗澡后,轮班晚上去工作。帝俊时常下天到东方荒野与五彩鸟聚会,在这里,他们翩翩起舞。中国神话里,开天辟地的盘古是狗头人身;创造人类的女娲是人头蛇身;始祖神黄帝是一只六脚四翼的神鸟;而海神兼风神禺强有时是人脸鱼身,有时变为鸟身。
这些承载着我们灵魂的伟大的神物已经远去,那些森林也不再存在。徘徊于精神,幻觉和现实,交错于人,鸟兽和风景,我灵魂再次得到升华;俯视社会和政治,我日益与之绝决。"凤鸟不至,图不出河,吾已矣乎。"(孔子)
艺术家和门槛
詹姆斯 阿凡尼塔斯基
当今是一个冲突的世界:全球化进程带来了强烈的民族主义;宪政国家里宗教武装运动此消彼起;科学进步论反而促使我们寻求返朴归真。
凝视陈平的作品,我们看到了类似的冲突:画面里有时纷乱,拥挤到难以喘气,有时冷静,深思而有序。它的结构在建立的同时也在消溶消失,像海浪缓缓地冲洗着海滩上沙筑的的堡垒。
他的作品是关于纯粹的绘画语言,无关抽象或写实,无关东方或西方,不在洁人与净土。
陈平看到了人与自然既相依又相残的矛盾,并准确地在作品里展示出来。这里,自然与人是一体:它不是"在那里",相反,我们与自然相依相存是无处不在,既风雨又同舟:从塔斯马尼亚到喜玛拉雅,到大都会,甚至到挂这些画的画廊。
我们或许有时会认为能凌驾于自然,但在这时间和空间里,我们的生活质量乃至生命,完全依赖于自然。这就是陈平作品的解读。
有争议的德国哲学家马丁 海德格尔在阐述"门槛"的概念时说,当我们从愚昧变为反思时,会用新鲜的眼睛看世界,会体会什么才是最重要的 – 人道和我们已建精神的联系。
一旦我们跨过这一门槛,这是一个不同的世界:更美丽,更精彩,更内在和更具有情感。
海德格尔坚称,只有艺术家如诗人,音乐家和画家才能带我们跨过这门槛。
陈平是个难得的艺术家,敢于藐视成见,可带我们跨过这门槛:他呈现了一个不同的世界。
revealed 2334 times