Gene·Metaphor of Hypothesis – Li Bo Solo Exhibitio

[2017-10-30 10:38:54]
Gene·Metaphor of Hypothesis – Li Bo Solo Exhibition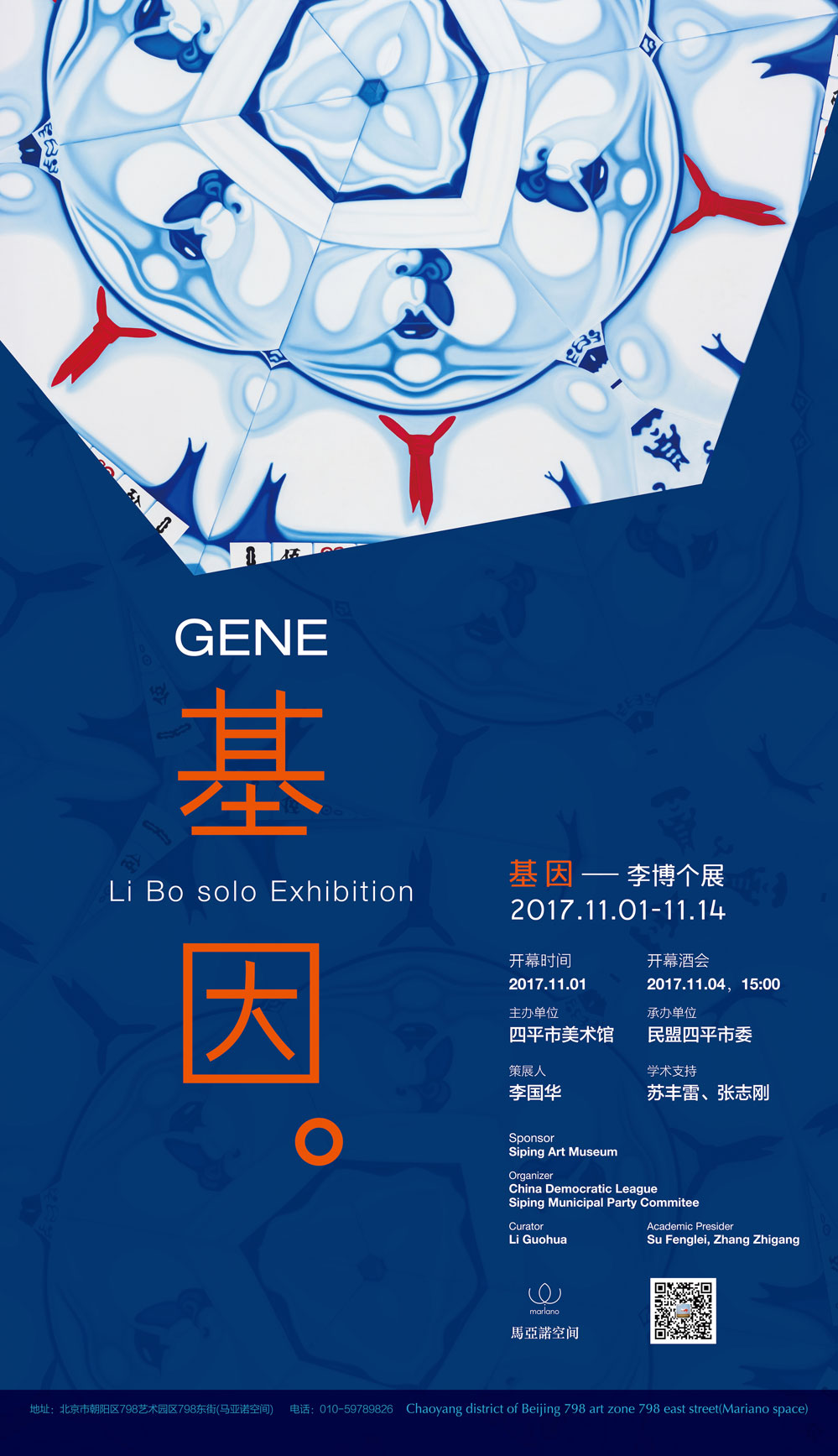 Exhibition theme: Gene Metaphor of Hypothesis – Li Bo Solo Exhibition
Artist: Li Bo
Curator:Li Guohua
Academic presider:Su Fenglei Zhang Zhigang
Exhibition time:2017.11.01—11.14
Opening date:2017.11.04 3pm
Address:Mariano Space ,798 Art Zone , Chaoyang District ,Beijing
Tel : 010-59789826
---
Transformed Perspective
Li Bo is preparing for his solo exhibition in Beijing. Two days ago, he came to Shenyang to see me with pictures of his works and he told me about his constantly changing jobs and life experience. Li Bo was a postgraduate student in Luxun Academy of Fine Arts. As his tutor, I've seen how he studied art in his three years in LAFA. Li Bo went back to his hometown in Jilin Province and we kept in touch in the following years, even though we don't have many contacts in recent years. After viewing his large number of works which were completed under unfavorable circumstances, I was deeply moved by his strong will in perseveringly persisting in art.
Li Bo's postgraduate program is the study of neo-classical oil painting. The professional teaching of their research direction emphasizes in the students' capture of the inner spirit and external form of western traditional oil painting. At the same time, the students should strengthen their self-creation consciousness, pay attention to the society and set up their unique observation method and expressional language. However, most of the students concentrate on training of modeling ability and skill of traditional painting and thus they do not do enough to find the "new" side of the contemporary spirit and their expressing language. While Li Bo is an exception, he loves reading and thinking and thus he has his interpretation of "new". In his opinion, the definition of "neoclassicism" is like this: "classicism" means the portraying of the object and "neo-" means the transfer of
context. Therefore, when facing choices, he follows the veer of his artistic concept and understanding of life and treats and absorbs the healthy part of traditional art from the confirmed stand of contemporary spirit. This is the greatest gain of his postgraduate time and has laid down a solid foundation for his future development.
Li Bo's art involves the plane, design, decoration and other abstract elements of contemporary painting and the quintessence of traditional classical art. He directly confronts the living circumstances, perceives deeply inside and carefully selects the figurative people and objects as the symbolic signs of thought and presents them in various patterns which forms the magic, fantastic pictures full of metaphors, resulting in the viewers' multidirectional association and reflection. In Li Bo's chilly, confusing paintings, the firm composition full of classical rational spirit shows the spiritual confusion and anxiety of modern people. Li Bo has created art of his time.
Liu Renjie Professor of Luxun Academy of Fine Arts October, 2017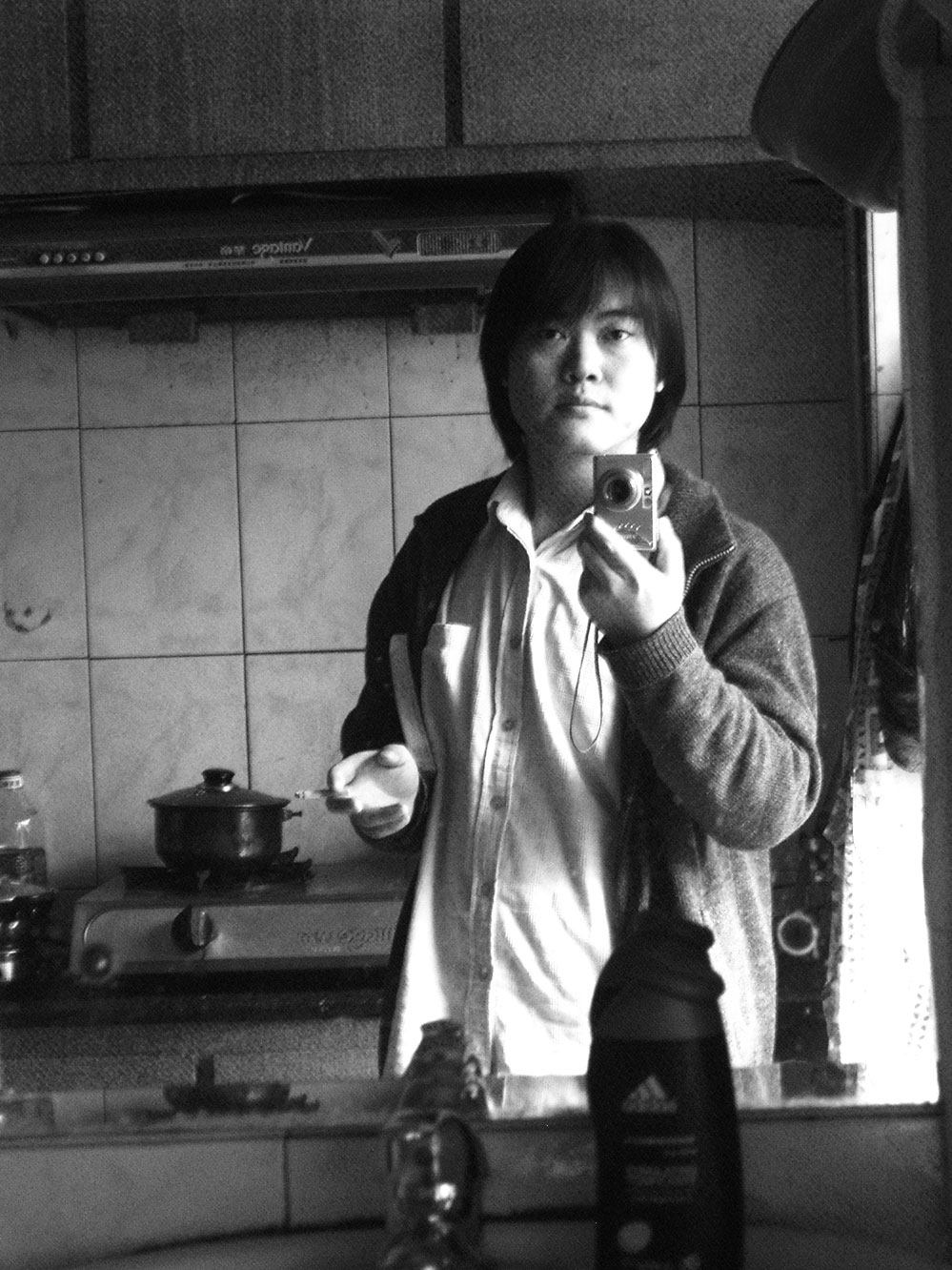 Resume
1981 Born in Siping, Jilin
2005 Graduated from Oil Painting Department of Jilin Normal University,Obtained Bachelor Degree, Graduation works collected by College Art Gallery
2009 Graduated from First Studio Oil of Painting Department in Luxun Academy of Fine Art, Research direction of neoclassicism, Obtained Master Degree
2009 Teacher in Basic Education Office of Jilin Animation Institute
2015 Member of the Residency Programme of Shangyuan Art Scene in Beijing Shangyuan Art Museum
2016 Official in Public Education Department of Siping Art Museum
Solo Exhibition
2015 "Overdue" in Shangyuan Art Museum Beijing
2017 "Metaphor of Hypothesis" Mariano space 798 art zone Beijing
Group Exhibition
2013 "Side Road—Reciprocating Self and Self-consciousness" Young Artists Group Exhibition Beijing Huan Tai Times Art Museum
2014 China International Gallery Exposition
2015 International Art Center of Bird's Nest
2015 Donation for autistic children—"Kaleidoscope" theme exhibition Hangzhou Vientiane City 2015 Invitational Exhibition of Light Space Beijing Pastures
2015 Residency Programme of Shangyuan Art Scene in Beijing Shangyuan Art Museum
Beijing Sunshine Museum Beijing Olympic Center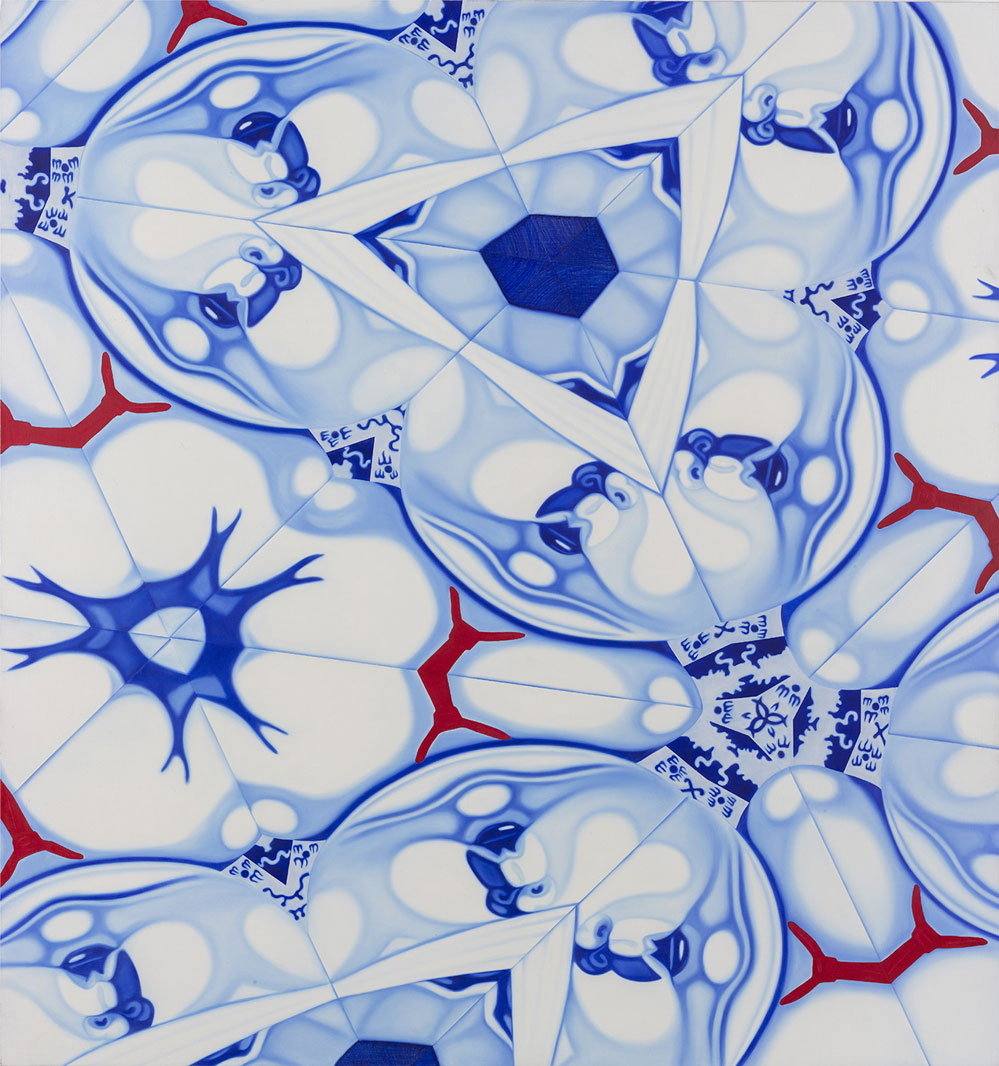 《DNA Series-Cell Mirror Lmage NO.5》
Oil on Canvas
150cm×160cm
2014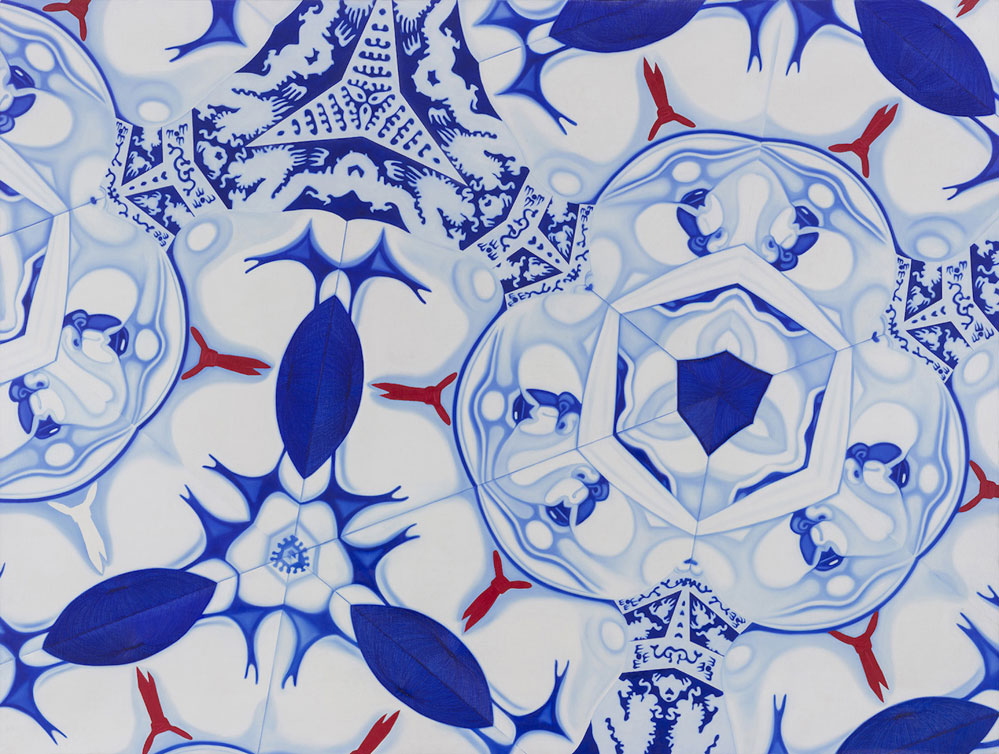 《DNA Series-Cell Mirror Lmage NO.1》
Oil on Canvas
150cm×200cm
2013
---
Gene – Li Bo Solo Exhibition
Artists are respected and their works are recognized, while the general criterion can be various and even confused in some times inferior to the second-class times. The artist—Li Bo deserves my appreciation and his works have earned my respect. Now I'll briefly state my reasons.
Li Bo, an art major, graduated from "the Neoclassical Workshop" of Luxun Academy of Fine Arts with a master degree. He has explained the definition of "neoclassicism", that is , classicism means the accurate portrayal of the subject, while "neo-" means the change of context which refers to the industrial and post-industrial era we are in. The academic side (the knowledge from books and the instruction from the tutors) has a positive effect on him, besides, his open-minded father has helped clear up theobstacles in his way of seeking knowledge. So Li Bo's free will flows smoothly in the broad universe and his knowledge and works constantly improve which leads to an independent character with a world vision in his paintings. All this seems to indicate the brightness of his art career, but to my point of view, only a few lucky men can succeed. As for Li Bo, he became a teacher in a college in Changchun after graduation and quit his job to pursue art two years later just like the way Tao Qian did. He devoted himself to painting for several years with the support from his family and friends.
Bian Zhilin once said: "Learn how to be a man comes before learning art. But after the accomplishment of his art, people should judge his works only for the sake of art rather than for the sake of his character." Li Bo's works deal with a less common field, but with a strong tone in his style. For instance, his painting style is rationalized, with cool colors, irrational lines, metaphorical images and rigorous structure. When looking at his paintings, the viewers do not get profound feelings immediately. It takes careful analysis and rational association to an understanding to a certain extent. Li Bo highly respect the rational spirit and he considers this spirit as the essence of western civilization, so he comes to the conclusion that the mastery of this spirit leads to the way out ( in his opinion, the eastern thought and the western thought can not meld together). He adapts the rational spirit in his paintings and use this spirit in analyzing problems. From one theme of his works, you can notice theartist's concentration on the spiritual outlook of Chinese people, in fact the figures like the infants and mahjong in his "Mahjong Series" indicates the spiritless culture without the rational spiritual construction. While his other series, the "DNA Series", which is based on the "Mahjong Series" and other works, is the profound deconstruction and analysis to try to find the antidote to the problem by screening the genes of the Chinese culture. The rational spirit dominating in his creation method together with the his analysis of people's mental world by the rational spirit constitute a series of artworks which is problem-oriented as wells as properly self-questioningand self-answering. While some of his works present an aspect of pseudoscience and humanitarian spirit, which is the extension and enrichment of the rational spirit.
Curator: Su Fenglei October 10, 2017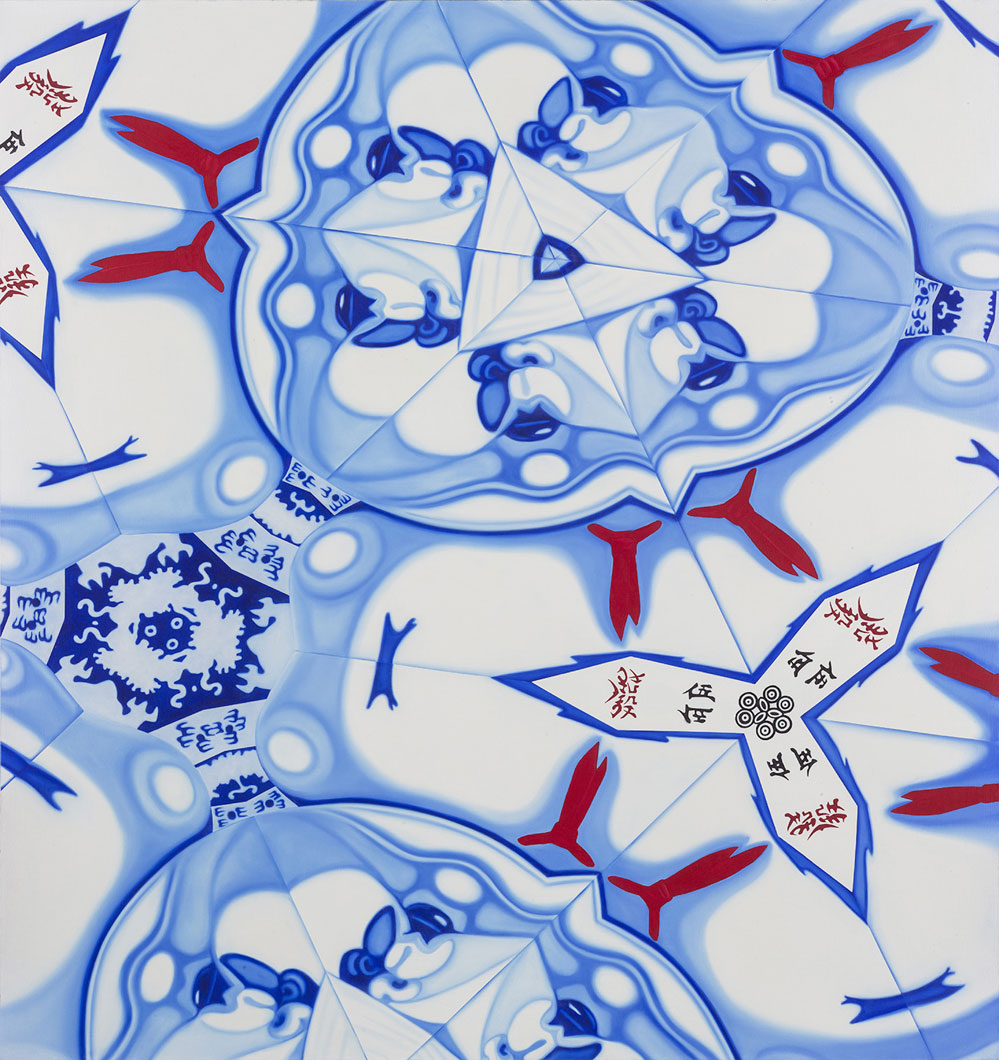 《DNAseries-Cell Mirror LmageNO1》
Oil on Canvas
150cm×200cm
2013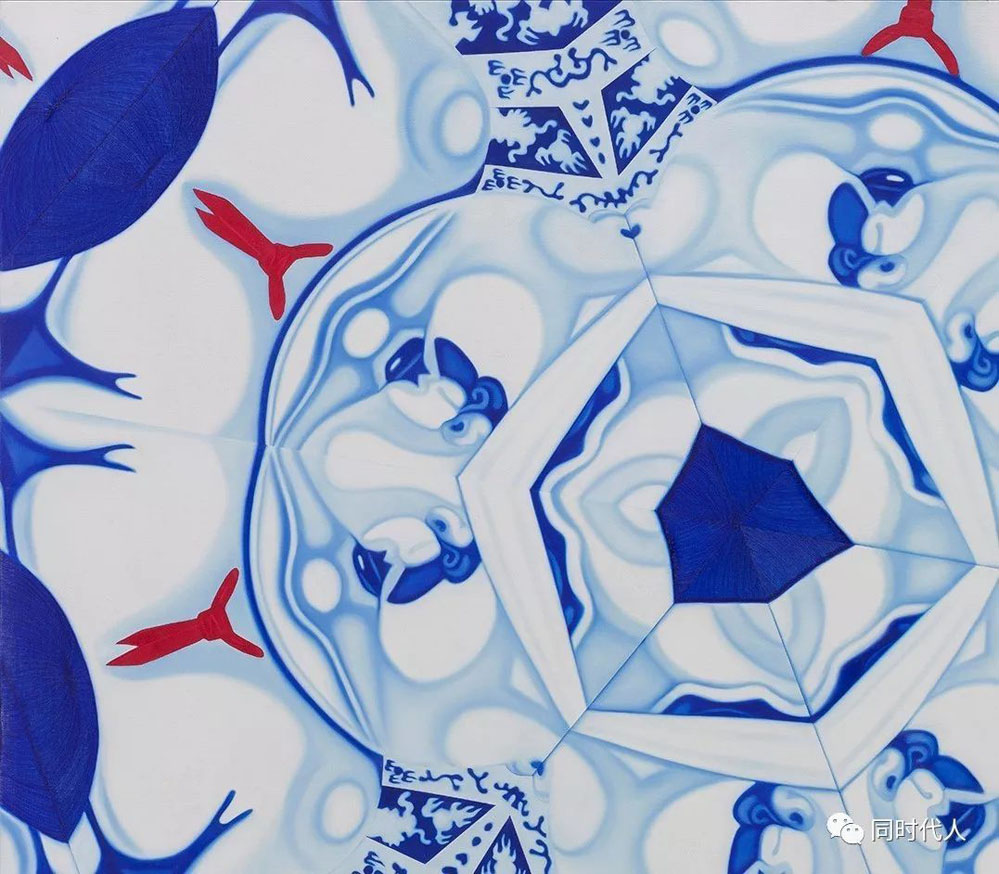 ---
Eventually you come to the realization that your opponent is actually yourself which is ignored by us.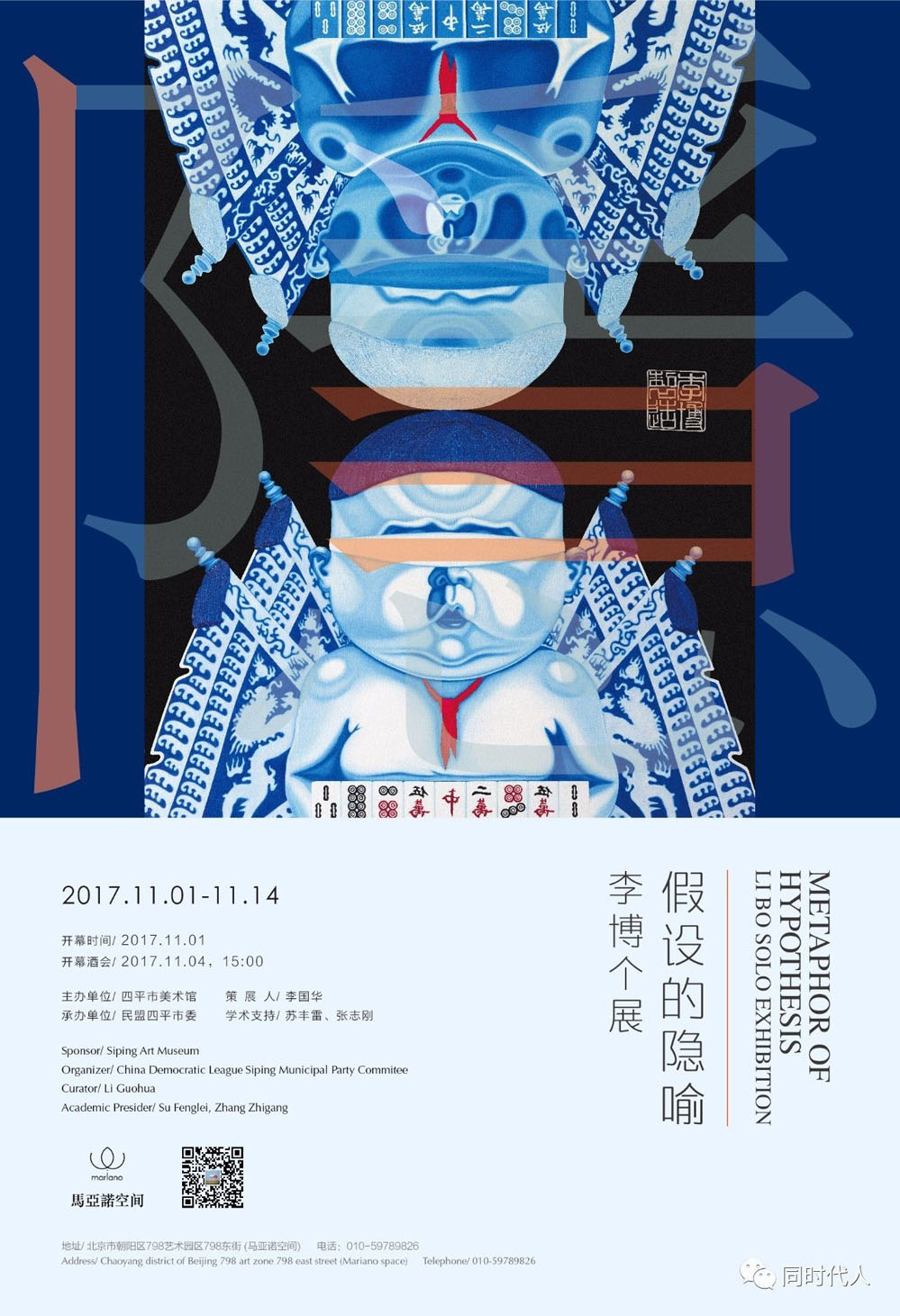 ---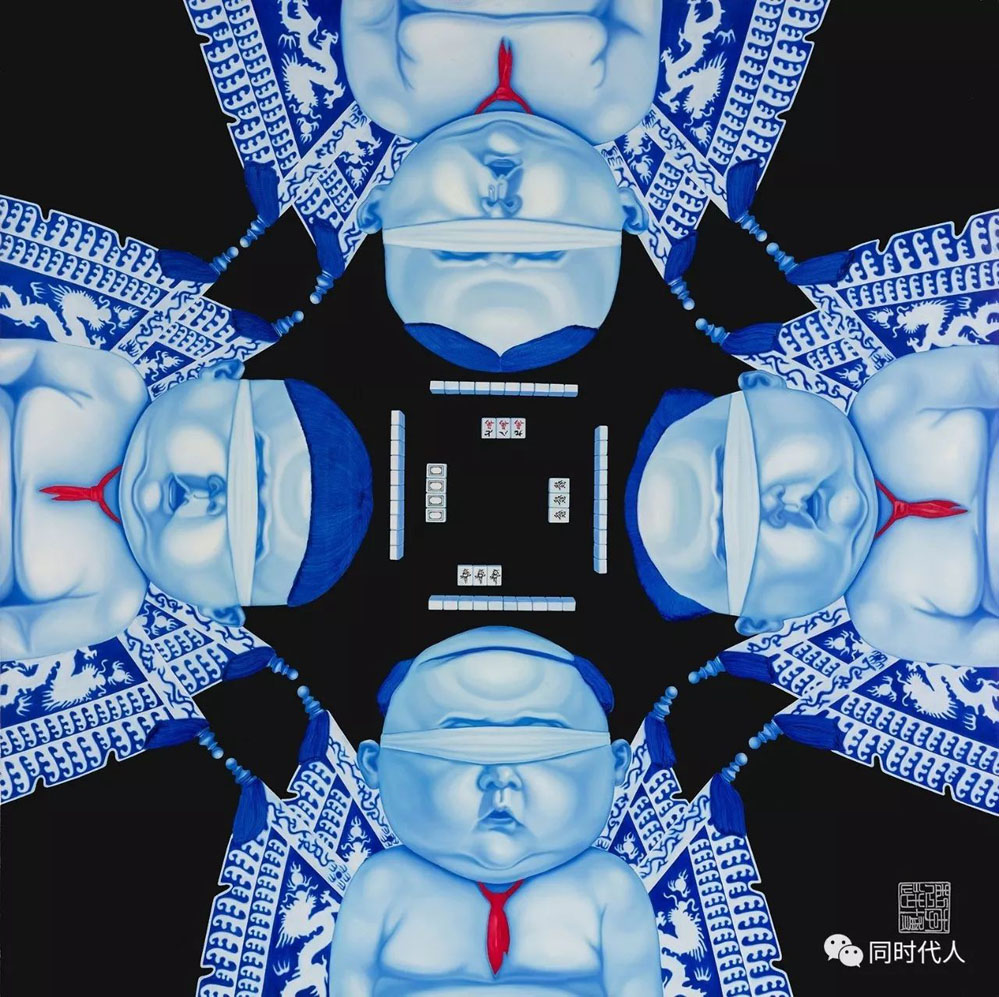 《mahjong-NO.4》
Oil on Canvas
200cm×200cm
2012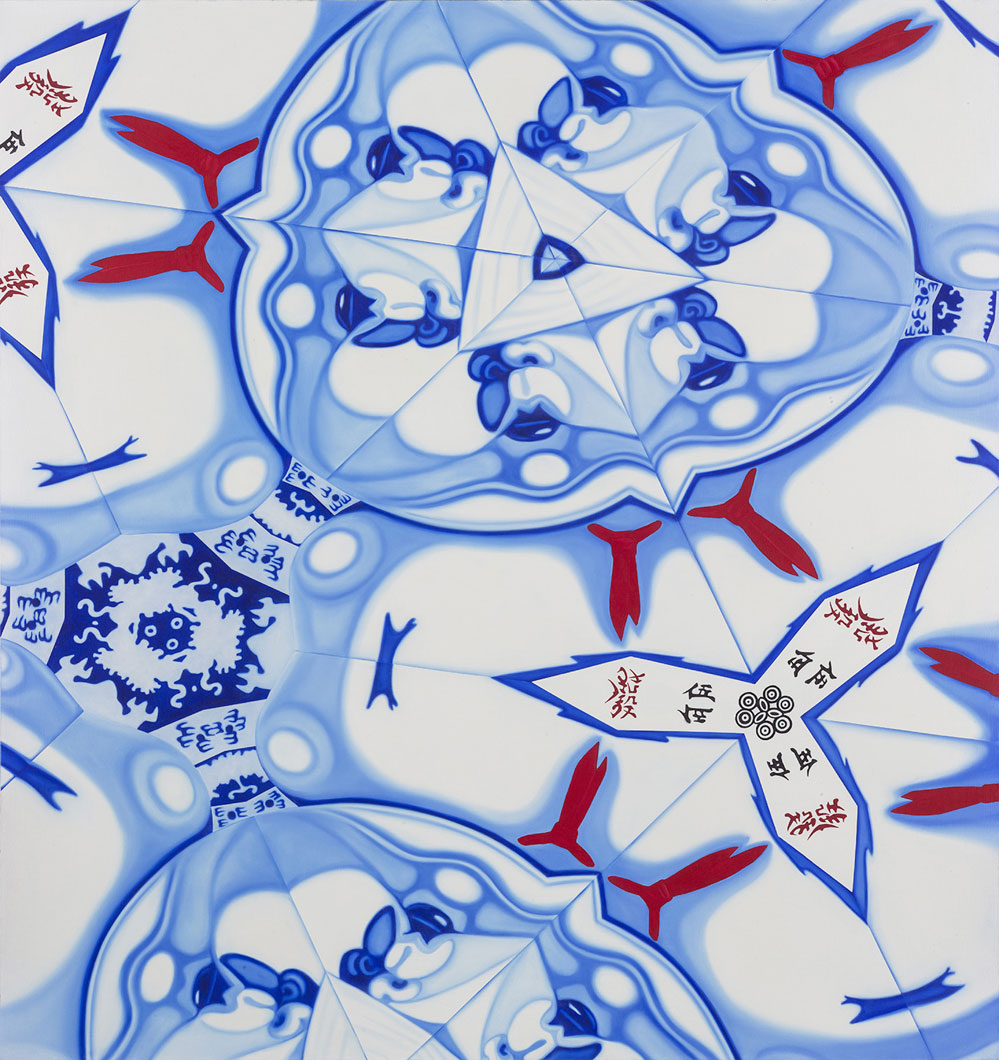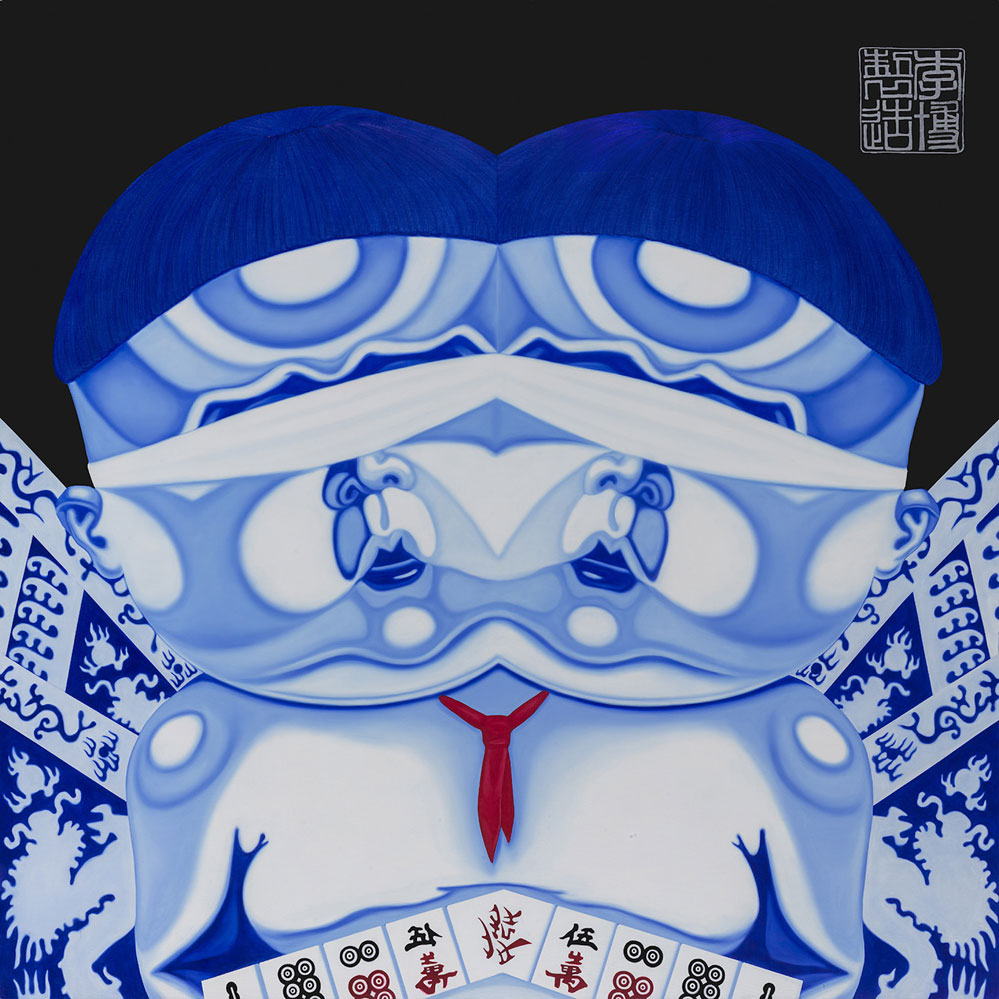 麻将系列(Mahjong Sesies)No.5 Oil on Canvas 200cmX200cm 2013
Metaphor of Hypothesis ——Reaction to Libo Works
The conception of Libo's recent works derives from the confusion in the public between the disorder of people's living state and their mental world, while these two elements (mental state and social reality) constitute the basic metaphor pattern of his paintings.
These paintings create a sense of illusion like a kaleidoscope does. The composition of the painting is an interweaving between mutual extrusion, invasion, distortion and an incomprehensible condition which leads to tension in the viewers. Those schematic symbols related to China (such as flags, traditional patterns, mahjong,numbers, red scarf, seal, etc) together with the covered-eyed infant in nightmare, cultural memory and social catastrophe drift in a fragmented picture which is disciplined, blue-dominated as well as contradictory, void and like a game.
These kaleidoscopic works with a sense of confusion even dizziness may just reflect the contradiction between the spirit and psychology of modern people. The confusion, fear, anxiety as well as the various problems and pressure from human existence pile up beyond time and space and have the same effect on the spirit and mental world of people nowadays. Also this chaotic, reversed, assembled and fragmented picture form is the true reflection of the painter's confrontation with human existence in his works.
When a person is stroked by the reality, with his consciousness in a contradicted state, he is driven to despair by the constant tearing from the hidden hope, frustration, failed efforts and resentment. While at the same time, the power of hope and the sense of mission is unboundedly magnified which also leads to the crushing of a person. But this contradiction may take effect on more people in a more intuitive sense and in a more obscure way.
The artist continually tries to clear the confusion and seek a solution to the problem in his paintings.
Despite of the fact that the answer is always away from the question, the romantic blue color in the paintings still brings more hope. The playful, fantastic color forms a virtual layer with comfort that isolates the pain in the serious confrontation with the reality.
Hidden behind the sensitive, strict, restrained as well as slightly impulsive and stubborn face of the artist and his art language, I often feel a sense of detailed, accurate and active bearing of pessimism. The artist seizes and cleverly recreates the crisis atmosphere between subjective reality consciousness and illusion, such as the metaphor of "the covered-eyed infant" and the unknown weirdness.
We often hope to get the exact answer, but "the question" or "the given question" always lies in fiction or in motion, so the effort to determine or be determined in fiction may actually stay away from reality.
Zhigang Zhang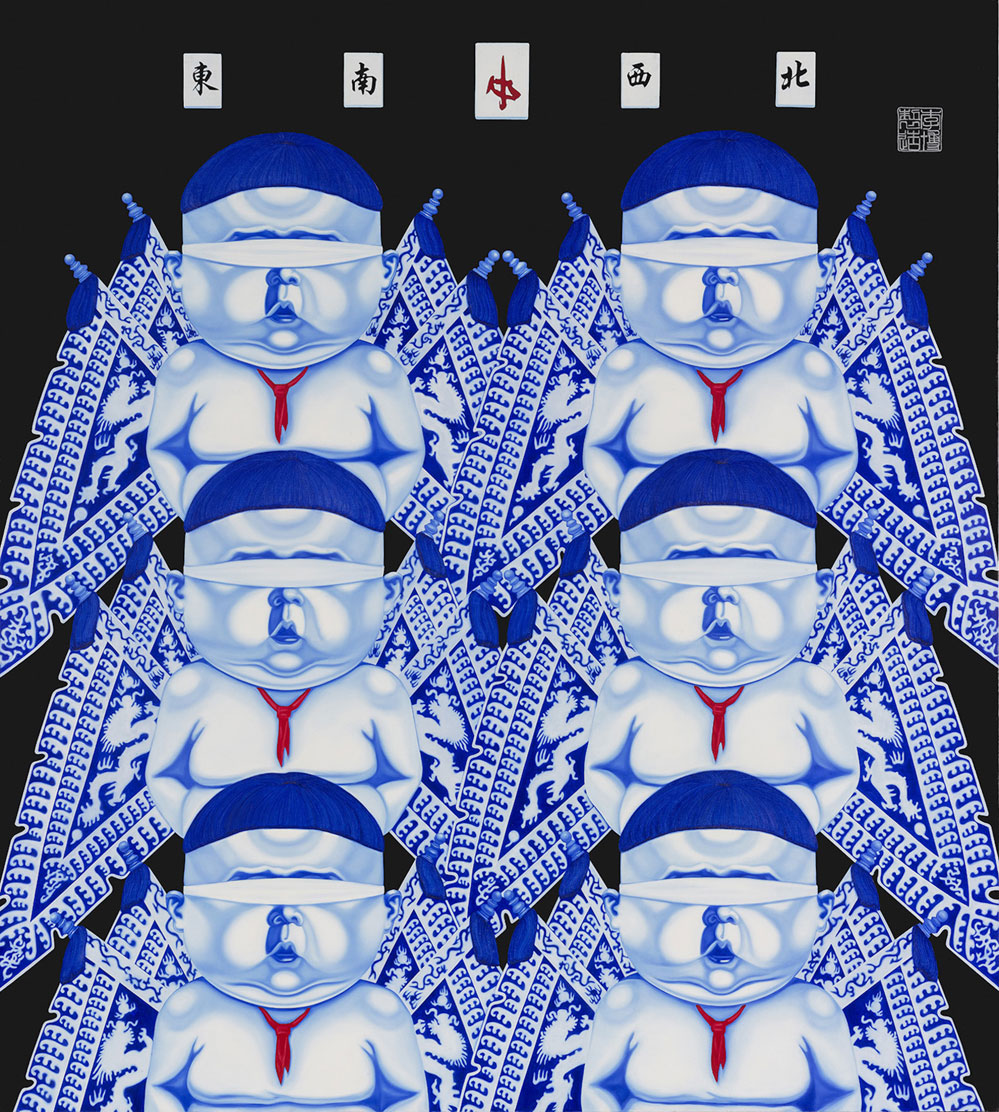 《mahjong-NO.4》
Oil on Canvas
200cm×200cm
2012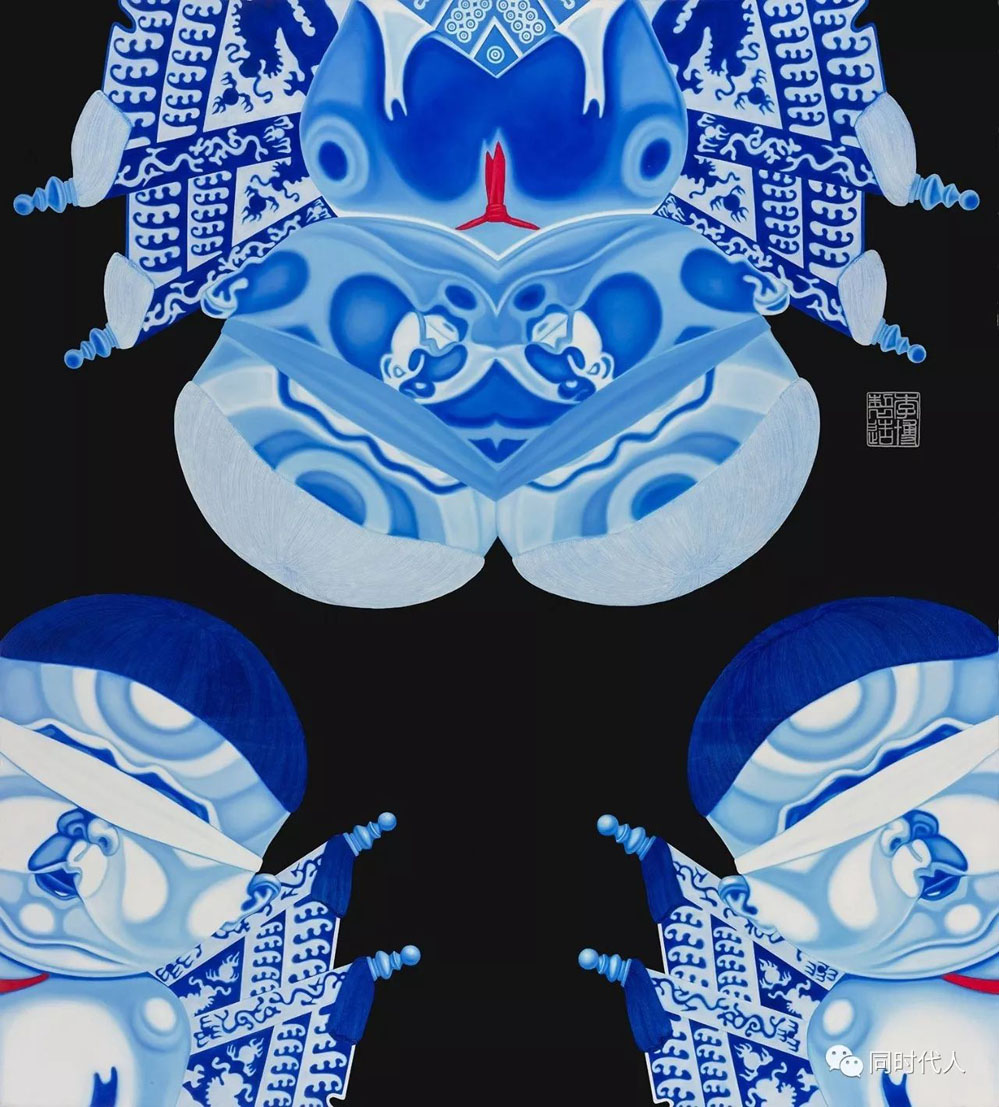 《mahjong-NO.2》
Oil on Canvas
180cm×200cm
2013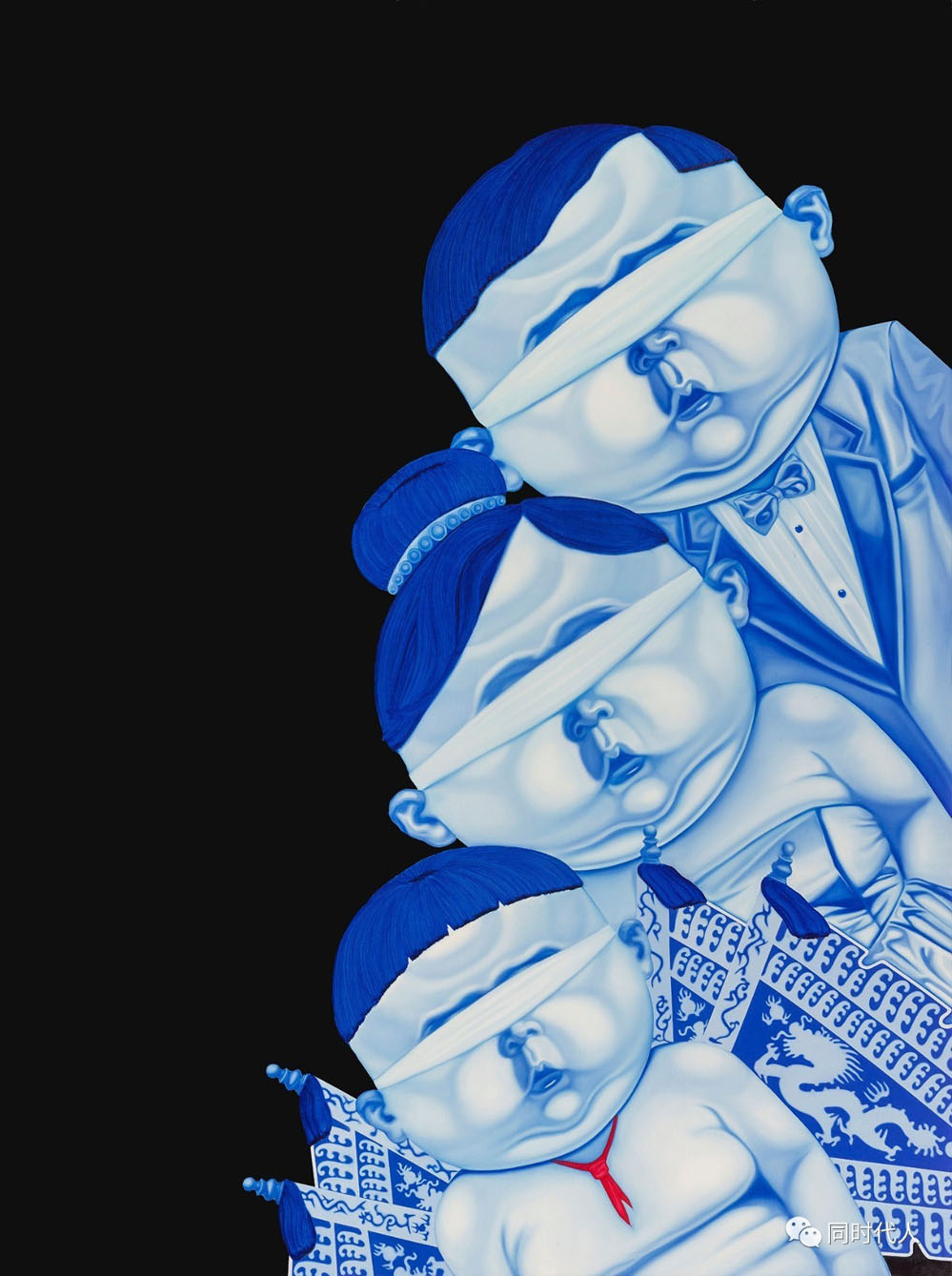 《earthly desire - NO.1》
Oil on Canvas
150cm×200cm
2013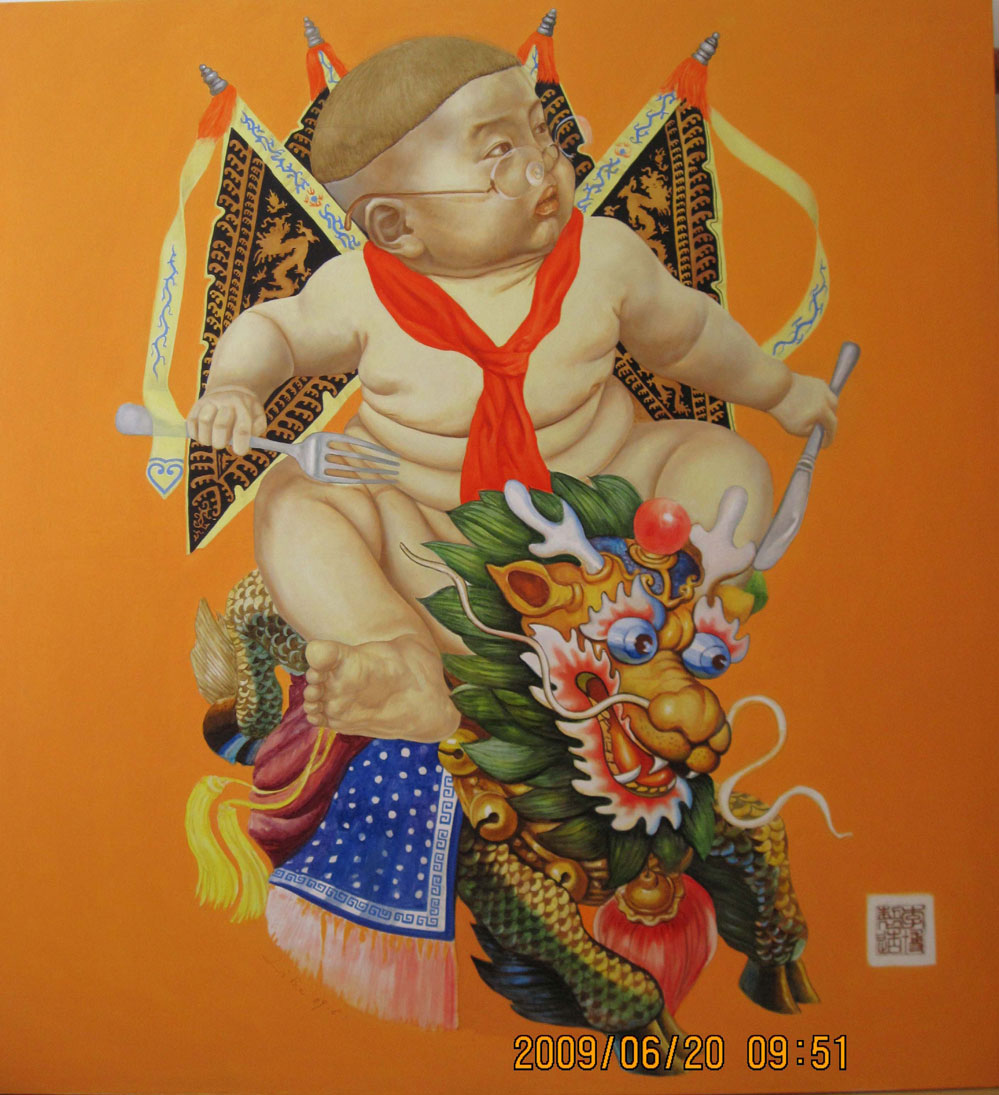 李博 《接班人系列--心之体 1 》150×160cm 油画 (上苑艺术馆收藏)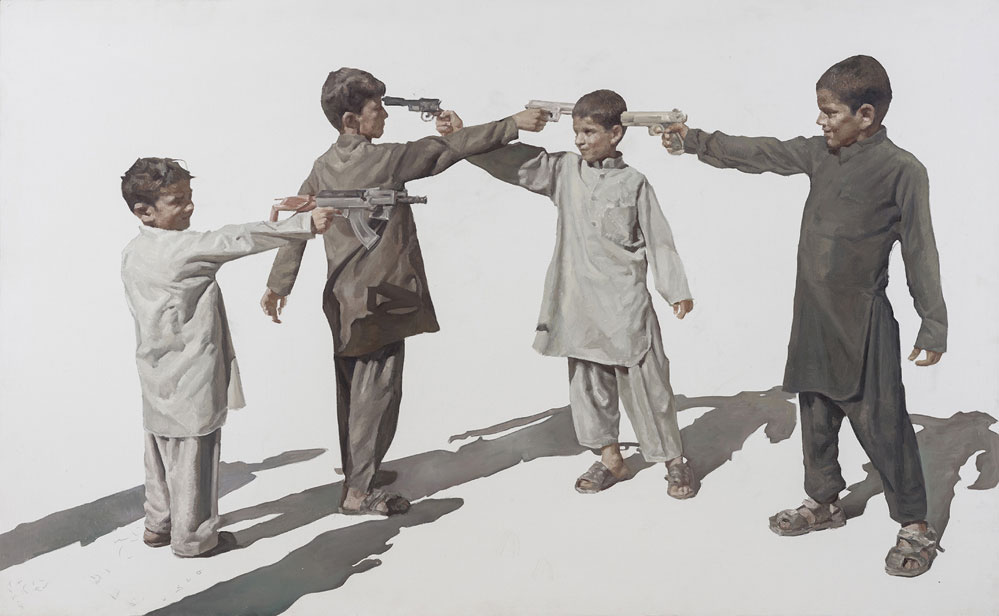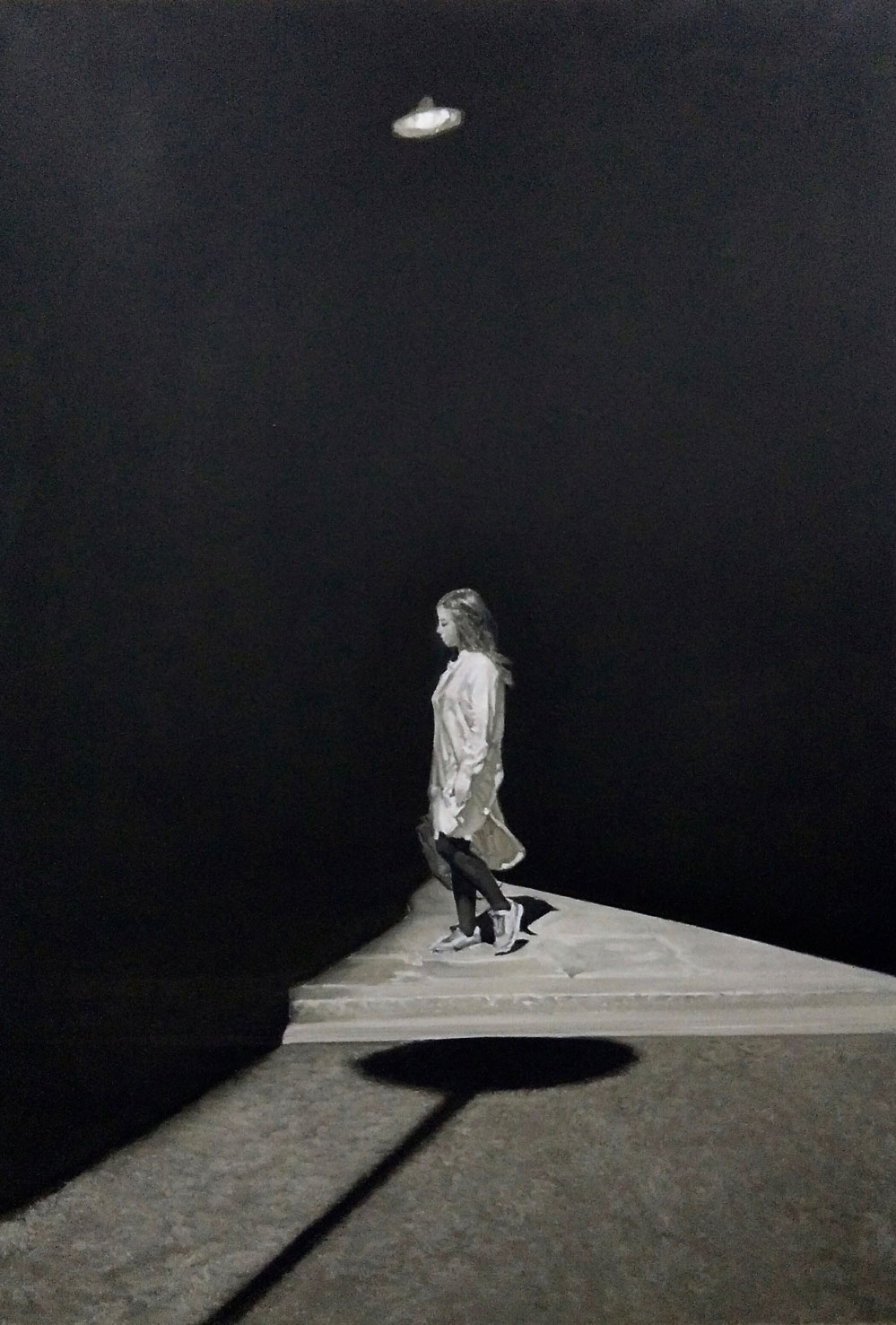 ---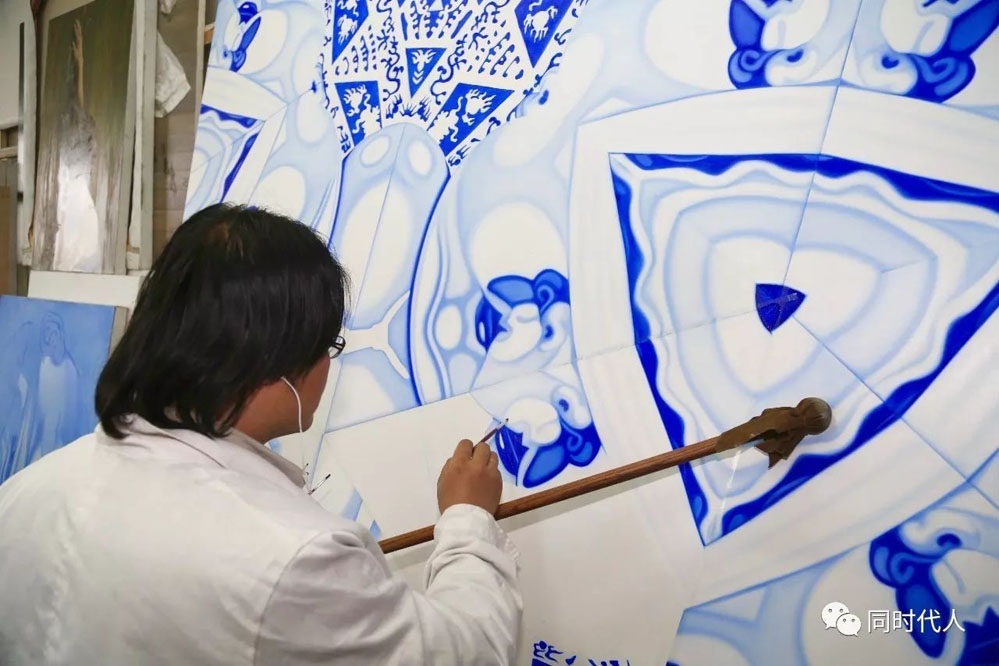 Artist Statement
I hope, through my paintings, we can seek for the answer to remove confusion, the medicine for this disorder and the future path of our civilization. Sometimes I question myself in my ability to carry this kind of burden and I question myself in the sufficiency of my schooling and knowledge. Anyhow, I cannot get rid of the bother of all this thinking. After all, painting is a visual thing. Whether my confusion and thinking can be expressed in the pictures or not is affected by my artistic skill. Whenever I stand in front my paintings, I always have the feeling my past experience and my present day have provided the pictures for my works and I am just the first person to read them.
I cherish all the history of our nation, both the glory and dream and concession and humiliation. I hope our nation can find the right path for our own cultural renaissance.
revealed 3902 times