Polish artist Urszula Wilk "Line" Large Oil Painti

[2012-7-14 5:52:06]

上苑驻馆波兰艺术家Urszula Wilk《线》大型油画展

Polish artist Urszula Wilk "Line" Large Oil Painting Exhibition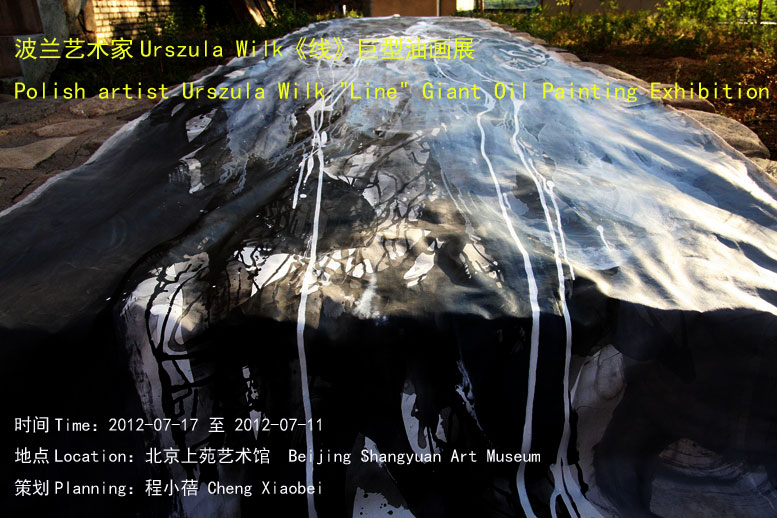 时间Time:2012-07-11至 2012-07-17
地点Location:北京上苑艺术馆 Beijing Shangyuan Art Museum
组织策划Organized and planned:程小蓓 Cheng Xiaobei
线
一幅六十米长的画就像一条线、一支画笔在空间中留下的印记。
当我们夸张地看,一个人可以发现,在那个黑白的无以计数的绘画世界,画家的手印与脚印,草与叶子的碎片都被画所吸收。
那线条——画,迎合了上苑艺术馆建筑的几何形式,并且改变了空间中绘画的尺寸和观感。光线与影子参与了创作的过程。空间、空气与地形是它的框架,由此那些线条因穿过它们而使其更完整,移动的线条置换并成为这个场景中的一个基本元素。
一条(如上苑艺术馆四处不断建造中的)红砖线,每天都一点点地在变长,直至无穷。
线——普通、不普通
Lines
A 60-meter long picture is like a line, a paintbrush mark left in the space.
When magnified, one can find there black-and-white countless painting worlds, painter's foot and hand prints, fragments of grass and leaves absorbed by paint.
The line – painting embraces the geometric form of Shang Yuan Museum building and changes the scale and perception of painting in the space. Light and shade participate in the process of creation. The space, air and landscape are the frames of the picture, whereas the trains passing by complete it – moving lines that translocate and are a regular element of this scenery.
The red line of a brickwork – growing by a few meters every day, endlessly.
Lines – common, uncommon.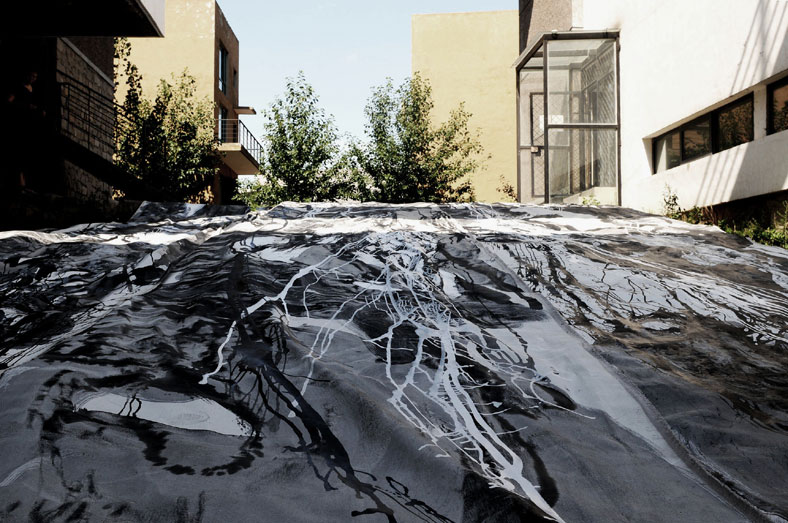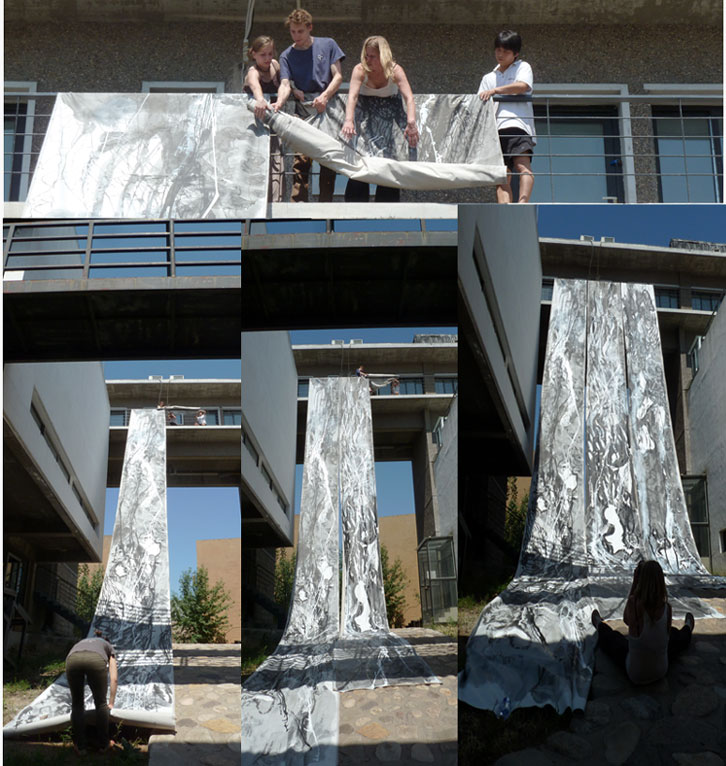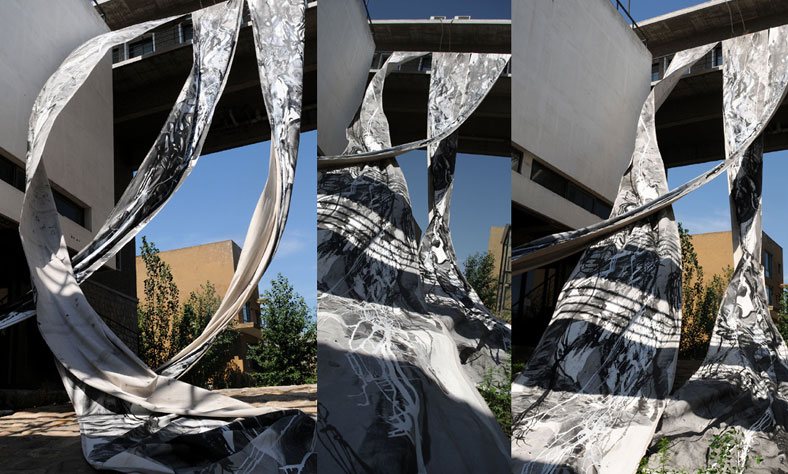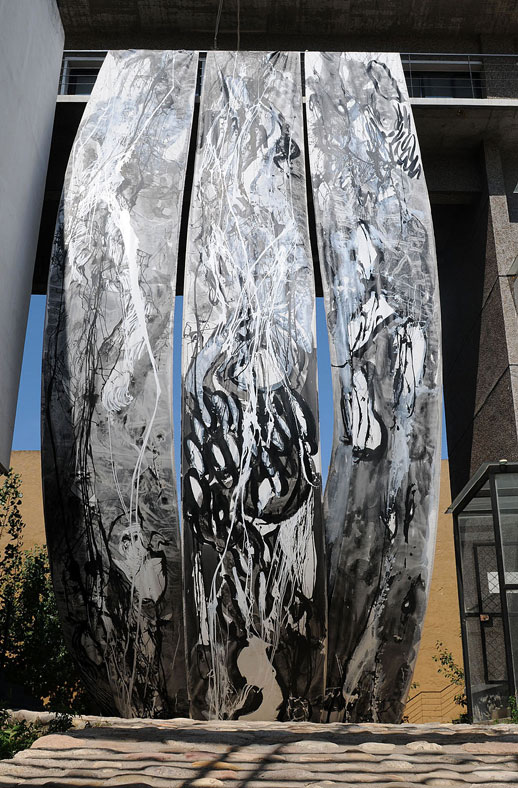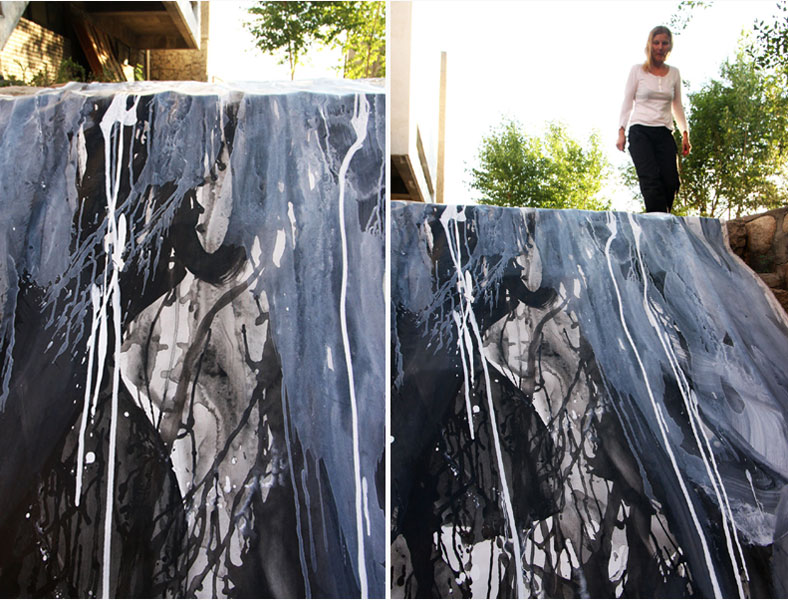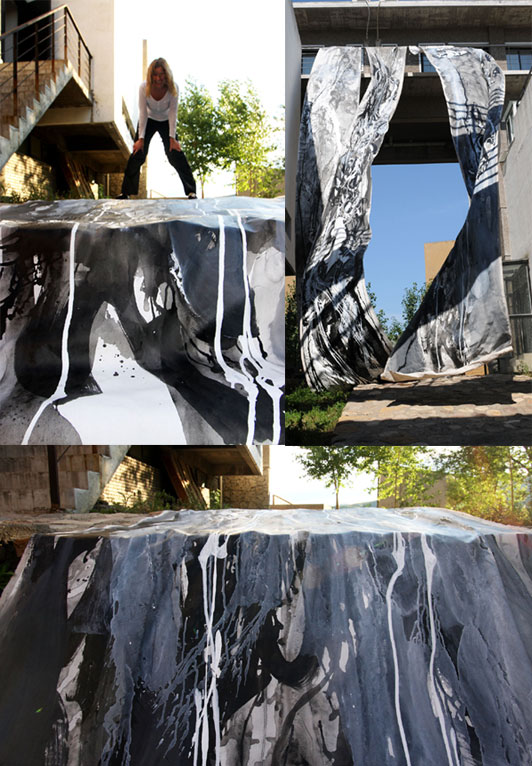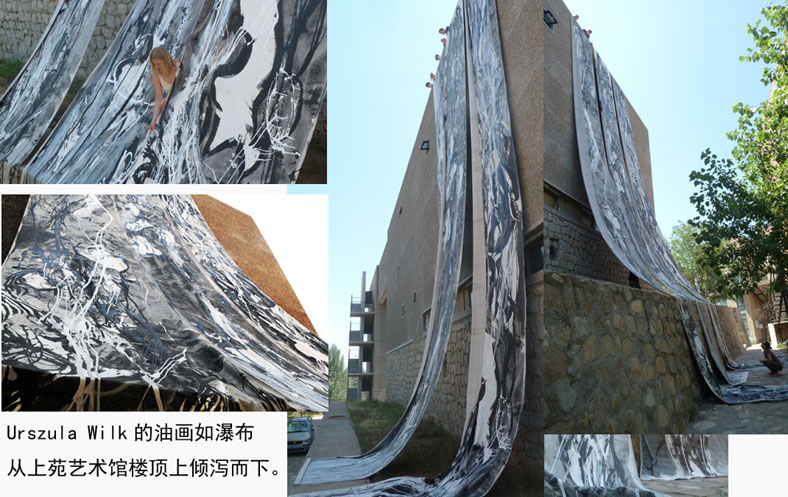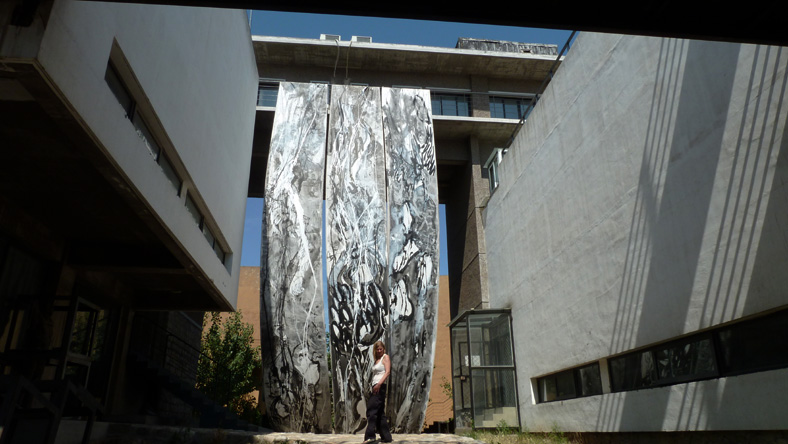 Selected solo exhibtions
1987 – Galeria w Pasażu – Wrocław; Poland
1989 – BWA -" Do góry nogami " - Wrocław, Poland
1991 – BWA – Wrocław; Poland
1992 – Galeria na Odwachu –Wrocław, Poland
1993 – Mały Salon, BWA – Nowy Sącz, Poland
1993 – Galeria Wzgórze Zamkowe – Lubin, Poland
1994 – Galeria Gojowy – Krefeld, Germany
1994 – Galeria M – Oborniki Śląskie, Poland
1995 – Galeria Brama – Warszawa, Poland
1995 – Smyke Galery - Archus, Danemark
1995 – Galeria Skalna – Strzelin, Poland
1995 – Altes Amstgericht – Peterschagen, Germany
1996 – Galeria na Odwachu – Wrocław, Poland
1996 – Zamek Książąt Brzeskich – Brzeg, Poland
1996 – Galeria EL – Elbląg, Poland
1997 – BWA- Nowy Sącz, Poland
1997 – Państwowa Galeria Sztuki – Legnica, Poland
1999 – Bałtycka Galeria Sztuki – Ustka, Poland
2001 – Galerie 40 – Wiesbaden, Germany
2005 – Galerie Dominigue Lang; Luxemburg
2008 – Galerie Drei Eichen – Emern, Germany
2008 – Galerie Avec – Bordeaux, France
2009 – Kościelak Gallery – Wrocław, Poland
2010 – Polnar Galeria – Opole, Poland
2010 – Galeria Skalna – Strzelin, Poland
Selected group exhibitions
1987 – Dyplom 86 – Łódz, Poland
1987 – Droga i Prawda – Wrocław, Poland
1987 – Wrocław- Mons; Mons, Belgia
1988 – Przegląd twórczości środowiska wrocławskiego- Warszawa, Poland
1989 – Pokonkursowa Wystawa Malarstwa im Eugeniusza Gepperta-Wrocław, Poland
1989 -Galeria Na Ostrowie- Wrocław, Poland
1990 – Wieża Malowana – Wrocław, Poland
1990 – 200 lat Uczelni we Wrocławiu – Wiesbaden, Germany
1991 – Reims Presente- Wrocław EXPO- Reims , France
1991 – Spadochrony – Wrocław, Poland
1992 – Kontynuacje – Muzeum Architektury- Wrocław, Poland
1992 – Forma i kolor czyli wszystko na sprzedaż- BWA- Wrocław, Poland
1992 - Forma i kolor czyli wszystko na sprzedaż- Galerie Bluefabrik- Drezna, Germany
1992 –Wystawa towarzysząca festiwalowi Musica Polonica Nowa -Wrocław, Poland
1993 – Państwowa Galeria Sztuki- Legnica, Poland
1995 – Galeria Form Art- Berlin, Germany
1995 – Tradycja i Terazniejszość – Muzeum – Brunszwik, Germany
1996 – Spirala 1 – Fundacja Gerarda -Świeradów Zdrój, Poland
1996- Arsenał, Muzeum Historyczne – Wrocław, Poland
1998 – Galeria na Piętrze – Dzierżoniów, Poland
1998 – Galeria na Odwachu- Wrocław, Poland
1999 – Wałbrzyska Galeria Sztuki BWA- Zamek Książ- Poland
2001 – Genius loci – Muzeum Architektury – Wrocław – Poland
2004 – Oblicza ekspresji – Galeria na Solnym – Wrocław, Poland
2004 – Malarstwo (dolnośląskie wystawy sztuki) BWA,- Wrocław, Poland
2006 - 60 lat Akademii Sztuk Pięknych we Wrocławiu – Muzeum Narodowe Wrocław, Poland
revealed 67687 times