2020年是非常特殊的一年,使上苑艺术馆 "国际创作计划"推迟四个月开馆,也阻拦了国外艺术家的到来。但仍然有22位优秀的艺术家,迎着盛夏的阳光来了。
2020 is a very unique year, it delayed our residency program for four month, and it also prevented foreign artists to parcitipate in the program. However, we still manage to have 22 talented artists coming to Shangyuan in the peak of summer heat.
上苑艺术馆作为目前国际上规模最大的非营利性综合艺术驻留机构。倡导"具有创造性与诗性语言特质,倡导和艺术家生存现状相关的生命体验的创作准则。让我们去发现在野的优秀艺术创作者。我们从2007年落成至今的十多年光阴中,见证了中国当代艺术的兴衰,也凝聚成了一股不可忽视的艺术力量。

Shangyuan Art Museum currently runs the biggest nonprofit multi-disciplinary residency program in the world. We promote the viewpoint that 'artistic creations with innovative and poetic characteristics should be inspired by individual experience of artists' life conditions', and to discover great artworks in the field. For more than a decade since our establishment in 2007, we have witnessed the rise and fall of contemporary Chinese art and have come a force in art world that cannot be ignored.
本次开幕展,是2020年驻留艺术家的第一次作品集体亮相,我们期待在北京上苑艺术馆与你相遇! 让我们一起进入这个不同凡响的夏天!
This exhibition is the first collective appearance of the works of our 2020 residency program participants. We are looking forward to your visit. Let us start this summer together with this exhibition!
上苑艺术馆
Shangyuan Art Museum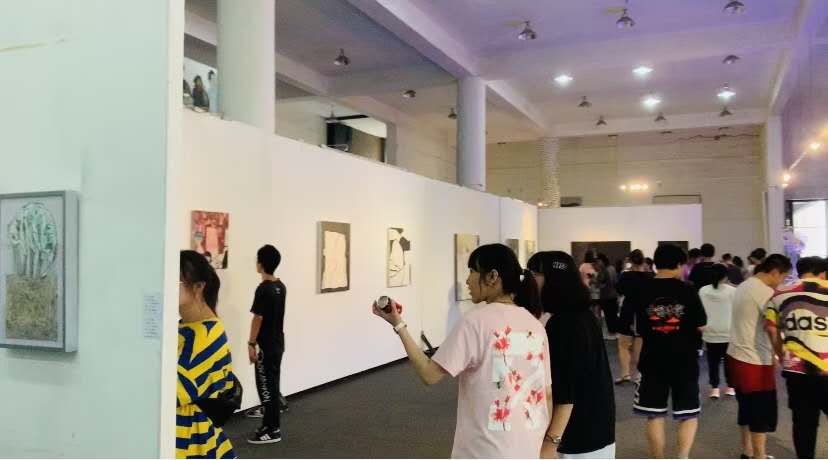 富有知觉的思想(作为艺术表现中的思想应该知觉化)来源于经验,技术也是一种经验,艺术构成中的这双重经验需要漫长的时间、借鉴、碰撞,并在虔诚的执著陪伴下才能达致某种成熟度,对艺术生成实质性的影响。
Conscious thinking (as the idea expressed in art should be realized in consciousness) comes from experience, so are techniques. To form such dual experiences in art construction requires a lot of time to think and find inspiration with almost religious piety. It is very difficult to achieve any degree of maturity and have an actual impact on art production.
上苑艺术馆所构筑的并且也是落地实践的,正是这双重经验在不同艺术家,甚至是不同类型艺术家之间的互动、互启、互渗——显然不可能指望在这里完成,但是如果用心的话,却能使这里成为你艺术生涯中的重要一站。更确切地说,上苑艺术馆并不理想,但是她又最为接近理想。这里的基础硬件有待于改进,在这里驻馆的人有待于更用力地使用这里的资源,但是这里却拥有最稀缺的自由,她的民间性和她的开明的管理双重地保护这里的交流,是个体针对个体,或者说是心灵针对心灵的。也是因此,这里构成了艺术家创作、研修、交往的净土,成了艺术精灵活跃的沃土。你可以拿出更多时间用于观摩学习,也可以大多时间静修钻研,怎么在这里驻馆,除了必要的规定性的交流活动,根据你身心的需要而定,没人管制你。一句话,这里不是帮你成名的平台,而是助你成熟自我(作为艺术家的双重经验的成熟)的一个起点、站点、转捩点。这是基于我的经验的一些感想。
What Shangyuan Art Museum have been constructing and practicing are exactly the interaction, permeation and mutual inspiration of these dual experiences among different artists, even among artists from different discipline. Of course, not all can be achieved here. But if you pay enough attention, here can be one of the most important stop of your career as an artist. To be more precise, Shangyuan Art Museum is not utopia, but she is the one that closest to utopia. The infrastructure can be improved, and resident artists should make better use of the resources here. However, what makes here special is the rare presence of freedom. She, as a private organization with very transparent management, protects the freedom of communication among individuals. That is also why Shangyuan became a sanctuary for artists to work, develop and interact with each other. You can spare more time to learn from others, or just stay inside and do some soul searching. Except from compulsory group activities, nobody will force you to do anything. What you want to do during the residency programme is essentially up to yourself. Let me clear, this is not a platform for you to get famous, but a place where you can start, transform or mature yourself and quest for the dual experiences as an artist. This is some of my experience as a resident artist here.
2016年驻留诗人:苏丰雷
2016 Program resident peot: Su Fenglei
上苑艺术馆长久做着在艺术界里雪中送炭的事,虽然鲜有回报,但义无反顾。对艺术家而言,来了,珍惜,体验,在记忆中留下痕迹,这就得到了。
The museum for many years is providing timely help to needed artists, even though there are rarely any payback. For artists, come here and gain experiences that can make leave a trace in their memory is already worth it.
2012年驻留艺术家:张志刚
2012 Program resident artist: Zhang Zhigang